The year was 2014⌗
I was hungry for something. Love? Delicious Mexican food? ¿Porque no los dos?
Sidenote: I was also intoxicated⌗
---
Here we have the beginning of the origin story for a website you've probably never heard of or realized you need in your life, that site is [OkBurrito: Free online burrito dating](https://okburrito.com/).
It all started one night when I was a wee bit more intoxicated than I probably should have been while browsing matches on OkCupid. I was also starving and had serious burrito cravings. This night wasn't going too well for me and I became frustrated that I had neither the burrito my stomach desired or the romance my heart was after. As they say necessity is the mother of invention and I was in desperate need. So I did the sensible thing and logged into my domain management account and plopped down $10 to secure okburrito.com as the future home of the best thing to happen to online dating this decade.
And then nothing happened.⌗
I sobered up and didn't really have much motivation to do anything serious with the domain, but the registration was good until July 2015 so I had plenty of time to figure out the next step. At some point or another I threw together a logo and started using the email address joe@okburrito.com every now and then. This lead to a series of events where my drunken idea got validation from the internet at large.
While working a slow late shift in late October 2014 I was perusing computer gig ads on the local craigslist when I found a guy looking for someone to downgrade his computer from Windows 8 to Windows 7. I was bored so I wrote up a quick email describing the various legal and illegal ways this could be done so he was aware if some chump tried charging him to illegally downgrade him using a fake license. Before I sent the email I thought it would be cool to send it from my okburrito email address with the logo I made up weeks ago. I needed the logo to be accessible from the web though to include it in the signature so I uploaded it to imgur with some background on the idea.
Then the post went viral.⌗
I got drunk and bought the domain okburrito.com at some point. Recently I made this mock-up of a logo for the site. My idea is to create a place where people can create a profile that matches them to ideal burritos in their area based on highly accurate burrito math. Should I make the thing for real?So I will be making this thing for real after a major redesign. For now a landing page is up at <a rel="noreferrer nofollow" target="_blank" href="http://okburrito.com">http://okburrito.com</a> for the curious.I&#039;m currently assembling a team of passionate burrito lovers with skills varying from web design to food critique to help make this a reality. We have a direction and we&#039;d love your support in getting there. If you&#039;d like to reach out to help contribute to the project you can contact us by email at imgurians@okburrito.comThanks everyone and never forget to Party Hard!
Now I had my motivation, I stayed up all night chatting with people on imgur about the progress on rapidly building the site as well as ideas for what to do with it. In spirit of how I had the idea originally the top commenter prompted me to only work on the idea while drunk. Something, something, Ballmer peak…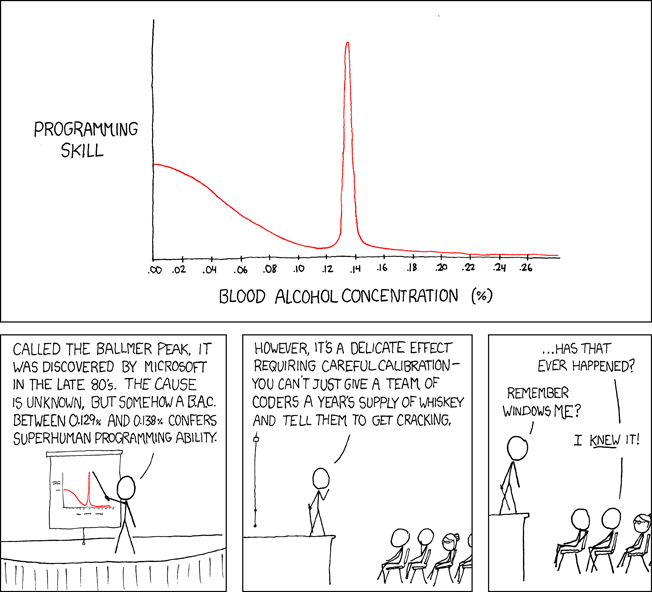 I set-up email boxes for people to send me ideas and offer help and those boxes proceeded to get slammed with email. By the morning the post was on the front page of imgur, had over a half million views, and I had a landing page up that was accepting donations.
For the record I got $87.93 in donations from internet strangers. I spent it on booze which is what I told them I was using the donations for.
OkBurrito was born!⌗
And then it died just as fast as it started. See the year was 2014 and I couldn't rightly develop a burrito matchmaking service. I was just a help desk admin for a technology company who happened to know a bit about managing servers, deploying websites, and building basic sites with HTML, CSS, and PHP. I was actively trying to learn more about programming and advance my skills, but I couldn't learn fast enough to build the thing people wanted from that initial post on imgur fast enough that they didn't lose interest. To make matters more bleak for OkBurrito at the end of the year I went out on a limb and took a promotion at my day job to take on QA Automation for the company, something no one had ever seriously done there.
Enter 2015⌗
I met a girl on OkCupid at the end of 2014 and we started dating by the end of January 2015. We're still together, she's amazing and completely fulfills one half of the problem that led to my desire to make OkBurrito. And we frequently go out for a couple good burritos to satisfy the other problem. Professionally I was far too busy taking on the challenge of being the first and only QA Automation Engineer at the company I was with and by the end of summer I'd be promoted to the lead of the entire QA department. It was a challenging, but great year for me however I never had an opportunity to revisit OkBurrito. At some point I felt bad about having a stale landing page up so I took the entire site offline. I wasn't sure if OkBurrito would ever be a real site like everyone who saw the imgur post envisioned it to be.
Several people were disappointed that OkBurrito vanished and I truly felt like I failed some awesome people who showed me my silly idea actually had merit. So I decided I had to do something about it and challenge myself to make things right by giving the people what they wanted. The age of online burrito dating was coming and it's up to me to deliver it.
Where OkBurrito is today⌗
In the last week I've doubled down on OkBurrito and started building an online dating app to plug some burrito matchmaking goodness into. I built a new landing page and brought the website back online with prompts to share the site on Facebook and Twitter. The burrito app has user registration finished and basic database scaffolding complete. I intend to deploy the app in place of the static loading page once I finish building profile management, matchmaking, and messaging. These core items are all I need to have a functional burrito dating app although much more is planned as time goes on.
I'm incredibly excited to see this idea finally come to life and I truly hope others share in this excitement with me. Win, lose, draw I'll be proud just to get the application built and deployed as it marks a milestone in my professional growth that I have yet to reach.
Thank you for reading about the odd and mostly uneventful history of OkBurrito so far and I can't wait to share more about it's future with you.
If you'd like to contact me with feedback regarding OkBurrito feel free to comment below or reach out to me on Twitter @polyglotpurdy or on OkBurrito's official Facebook page.
---
Liked what you just read? Go ahead and support more content like this by way of my coffee/beer money fund.